Such Beautiful People
Directed by Dmytro Moyseyev
Description
A delicate sandy palette pervades nearly every frame of Such Beautiful People.
It starts, dream-like, with a pair of gigantic sea creatures (a pufferfish and a seahorse) gamboling to and fro against the Black Sea for an audience of two.
The unique story takes place on a remote seaside shore where a family of three – a husband, wife and their young son and their neighbor, a single woman of 38 have run away from civilization to live by the sea.  They live right next door to one another.  They catch fish, dry and sell it,  attempting to live a simple life without anything modern.  This is a wonderful story of gentle people striving to make their lives better and to better understand one another.
Given the current strife that is going on in his country, this is a rare opportunity to see a film that is in his words "really Ukrainian – not Russian."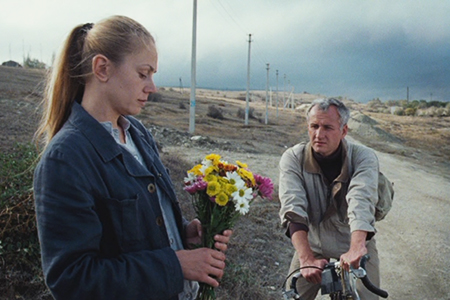 Marta and Ivan
---
Director's Bio
Dmyrto Moyseyev (born 1983)
Director, scriptwriter, producer. Dmytro Moyseyev graduated from Kyiv National University, Mathematics Department (2004). He graduated from Kyiv National University of Theatre, Film & TV, Directing Department (2008).
Filmography
Hello, World! (2005), Alone (2007), Offworlder (2008), I Have a Friend (2009), Such Beautiful People (2013).
---
Credits
Screenwriter: Dmytro Moyseyev
Cinematographer: Serhii Tartyshnikov
Music: Maksym Shalyhin
Editor: Oleksandr Novytskyi
: ,